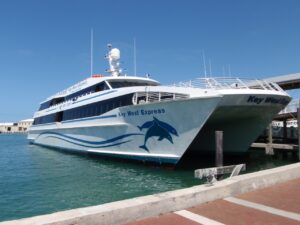 One great part about a visit to Fort Myers Beach is that you can easily add on a trip to Key West for a very reasonable price, most of the time cheaper than even driving. If you've come a long way to Florida, a trip to Key West would be a shame to leave for another time. Key West is bustling with restaurants, bars, shopping, quaint hotels and generally just very active. The ferry dock is only a few blocks from famous Duvall St, making it easy to get from the ferry to everything else. You can even take your bike on the ferry if you desire, although at $34 round trip it only makes sense if you plan to stay a few days and really need it for getting around.
Day Trip vs Overnight:
I highly recommend an overnight stay in Key West, as there is so much to do and a day trip will only give you 4-5 hours to explore – hardly enough for Key West as you don't even get to experience one night in town. There is no additional charge for either parking or the ticket price to return on another day, although their website doesn't really advertise that you can return on another day.
Important Security Information:
When leaving Fort Myers Beach, the Key West Express leaves from a private dock, and is not required to screen passengers in the same manner as when they leave from Key West, a government operated port facility. As such, you and your luggage for the return portion of your trip will be inspected in a similar manner as at the airport. With this in mind, make sure you don't bring firearms, knives and other similar items which may be subject to confiscation.
Ferry Schedule:
The Key West Express ferry boat to Key West leaves Fort Myers Beach on a daily basis during peak season, and Wednesdays through Sundays during the summer months.
Departure from Fort Myers Beach is 8:30 am, ticketing begins at 7 am.
Departure from Key West is 5 pm, ticketing begins at 5 pm.
Travel time from Fort Myers Beach to Key West is about 3 1/2 hours once underway.
Buying Tickets:
Fares listed below are published fares, and calling them directly at 888-539-2628 usually results in a discount being offered unless they are completely full. There are occasionally special deals, and sometimes the hotel concierge can get you a discount also. You can also purchase online.
Round Trip Tickets:
Adults – $146
Seniors – $136
Juniors (aka Children) – $81
One Way Tickets:
Adults – $86
Seniors – $86
Juniors (aka Children) – $58
Pet Policy:
Pets are accepted on the Key West Express for $15 each way on a space-available basis. You will need to provide your own crate or carrier, and make a reservation in advance.
Food & Drink Onboard:
While food is available onboard, it's definitely nothing to tell your friends about. My breakfast sandwich was a Jimmy Dean sausage sandwich that I didn't want and was nearly impossible to give away, even to college kids. I strongly suggest brining your own food, or eating prior to boarding.
The bar selection was good, and since we weren't eating breakfast we did order a few bloody mary's to keep us nourished. I want to say I remember prices being around $6 per drink.
Additional Nice-To-Know Information:
Parking is available, free of charge at the dock in Fort Myers Beach. When you arrive, a parking attendant will ask you which day you are returning so you can be parked in the appropriate area.
Luggage is limited to 2 carry on items, approximately the same size as a carry on you can use on airlines. However, there are no official measurements so some flexibility is allowed. Strollers, wheel chairs, and other such items are also accepted. Oversize luggage is charged $10 per piece.
The fleet consists of 4 ships, and the newest, namesake ship called the Key West Express is (not surprisingly) the nicest.
Onboard Amenities (based on Key West Express ship) include a well equipped bar, small cafeteria style galley, restrooms and limited seating with tables.
If you get motion sickness (or have never been on a ship) you would be smart to bring some Dramamine (available from the local grocery's pharmacy section) and/or ginger pills or candies to combat motion sickness. Ginger is an effective natural remedy, just be sure any candies you do buy actually contain ginger and not just flavoring if you choose this route.