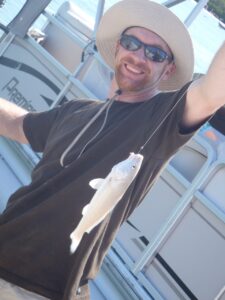 Shore Fishing has got to be the number one pastime in Florida. Every where you go near the shoreline you will see people hanging around their favorite pier, bridge or beach hoping for a bite from a fish, and hopefully one that you can take home for dinner. In fact, Florida's fishing regulations for shore fishing are such that residents (not visitors, unfortunately) have been protected from paying for a license to shore fish with the state establishing a zero dollar license, that in effect negates federal regulations requiring a paid fishing license for such fishing.
Popular Shore Fishing Locations near Fort Myers Beach:
Sanibel Causeway - Head North on San Carlos Blvd off the North end of Fort Myers Beach, and turn left onto Summerlin Road, following the signs to Sanibel. Once passed the toll booth ($6 toll, but covers in and out) there are a number of places to stop on the causeway islands. One of the islands also includes restroom facilities.
Punta Rassa area – Just before the Sanibel causeway toll booth there is an exit on the right to Punta Rassa. If you take this exit there is a boat launch area where you can park, and go fishing under the causeway bridge. Also on the south side of the road when you are heading back from Punta Rassa, just after the toll booth there is a wide shoulder where people park to go fishing on the south side of the road. This is also a popular spot for camping and kite boarding.
Pier on Fort Myers Beach – The pier in downtown Fort Myers Beach is usually a very popular spot for fishing. Head to Times Square and walk out the pier to the end. There is a small convenience store located on the pier.
South End Bridge – If you follow Estero Blvd all the way south as you are about to leave the island, you will most likely see people standing on the bridge fishing over the side. This spot almost always has people fishing from it.
Lovers Key State Park – Just a bit further south from the bridge and you'll be on Lovers Key. There are plenty of spots to park for free, including near the boat ramp and you can wade in to the bay side very easily. I've heard rumors and seen a sign about alligators at Lovers Key, so keep that in mind. I believe that is primarily in the central area, as alligators are not known for liking 100% salt water and usually stay in fresh or brackish water.
Beach Spots – Almost any spot on the beach will do. You'll no doubt want to stay away from a crowd of people in the water as they can spook the fish and get in your way, so near the downtown area is usually not the best spot. It seems that between the beach and the sandbars that exist in a number of spots along the beach are popular, due to increased fish activity.
Important Information about Licenses & Fees:
It is important to note that this page is not intended to be an official guide to fishing regulations, but only intended to serve as a quick overview and direct you to Florida State Fish & Wildlife where you will be able to find the most up to date and definitive information about licenses and other requirements.
Offshore Fishing – Offshore fishing for most visitors will probably be done by chartering a fishing trip, but for those who are looking to try it with their own boat, here is a list of Fort Myers & Sanibel fishing reefs to help get you started.
Visitors to Florida are required to have a fishing license even for shore fishing, but the good news is that prices for out of state visitors to obtain a license are reasonable. I am sure plenty of people will try their luck fishing without a license, and many get away with it. You don't want to be the one that doesn't, as you will be fined, required to pay the state license, and any county penalties.
Saltwater Fishing License Fees for Visitors:
Annual License – $47
7 Day License – $30
3 Day License – $17
More License Information:
In addition to the standard saltwater license, if you want to keep Snook, Tarpon or Lobster, you will need a tag for those species.
If you are going out with a fishing charter company, check with them before purchasing a license. Most charter companies will have a boat-specific license that covers all occupants of the boat so you will not have to purchase a separate license.
Licenses can take up to 2 weeks or more to receive by mail. However, if you apply online you will be issued a temporary number that you can print and be in compliance. Another option is to get one from a local establishment such as a sporting goods store.
It never hurts to read up on local fishing reports for Estero Bay and Fort Myers Beach to see what the action is like.