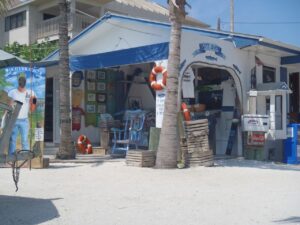 Captiva is a great day trip from Fort Myers Beach. The small town of Captiva has bright colored houses and restaurants really give off a great island vibe. Considering the size of the place, it's quite ironic that Captiva has a great presence with locally renowned restaurants but they do truly offer good food and an unbeatable atmosphere.
Beach access is easy in Captiva, and it is one of the better beaches nearby, in my personal opinion. The water is very clear, and on all but stormy days it quietly laps against the beach with almost unnoticeable sound. It's like being on a large, tropical lakeshore.
A ride on the Lady Chadwick operated by Captiva Cruises is something not to be missed. Take a ride out to Cabbage Key or one of the other only-boat-accessible islands or go on a dolphin cruise.
Getting to Captiva from Fort Myers Beach
The island of Captiva is located just past the north end of Sanibel Island. Plan about 45 minutes to an hour for your trip, depending on seasonality and traffic.
Head off the island over the Matanzas Pass Bridge at the north end and follow San Carlos Blvd until Summerlin. Turn left and follow the road until it leads over the causeway to Sanibel and follow the signs.
Best Restaurants in Captiva
My 3 favorite restaurants in Captiva are the Bubble Room, RC Otters and Key Lime Bistro. They are all very popular with visitors and each offers good food and unique atmosphere. Here's some details about a couple of them. I won't bother giving directions on where to find them, as Captiva has about 2 streets with restaurants so you should be able to find them easily. If not, just ask anyone you see and they'll point you to them.
Key Lime Bistro
Key Lime Bistro has a great outdoor area where most of it is covered, and they usually have someone playing music and/or singing outside starting early on in the day. Every time I head out here for breakfast (or one of the nearby places) I see someone playing music.
The best thing on their breakfast menu is the French toast. Calories don't count when you're on vacation, so you should definitely try them. I also like their nachos, although they are a little on the bland side before you put salsa on them, but the serving size is good and the ingredients taste very fresh.
RC Otters
Breakfast here is fantastic, and they have the best crab cake benedict around. One note to remember though, is that their liquor license only allows serving "wine-based liquor" so your bloody mary's and such won't be the same as you're used to. I usually stick to a mimosa or beermosa. I have yet to be disappointed with anything on their menu, so give them a try and I think you'll be very happy.
Bubble Room
This place is something you'll remember forever. The outside is painted with a hideous yet very fun multi color paint scheme, and inside feels like you've gone to a circus in which only the Boy Scouts perform. There are all sorts of vintage toy items all over the entire restaurant, but they are very well cleaned so you don't find dust layers like one might think. Upstairs there are rotating red & green light chandeliers and a toy train that circles above your head, chugging around the perimeter of the room. However, the experience may leave some people feeling scared or disturbed, primarily those who have a fear of clowns to begin with.
Food wise, there are a number of choices although understandably more seafood focused. The Bubble Bread is really good but what the Bubble Room is really known for is their cakes. My personal favorites are the red velvet and orange crunch. Orange crunch is just so different from any cake I've ever had, I highly recommend you try it.