Locals and visitors alike can save a lot of money and time by riding Lee County's trolley with service from Summerlin Square (approximately at the intersection of Summerlin and San Carlos Blvd) in south Fort Myers all the way to the Bonita Springs K-Mart.
Questions About the Trolley Service?
You can call LeeTran on (239) LEE-TRAN (533-8726) and I'm sure they would be happy to answer any questions you have.
Trolley Fare Details:
The fares below reflect only cash fares and only for the trolley. You can buy a system wide fare if you plan to use the other busses, but that is not covered in the fares below. Check LeeTran website for details.
Single Ride: $0.50
Senior Single Ride: $0.25
All Day Pass: $1.50
3-Day Pass: $3.00
Passes are available to purchase online at http://eltosc.leegov.com or you can pick them up from any Publix grocery store, which are all over the place. There is one on the island, and a number in both Bonita Springs and south Fort Myers on the way to the beach.
During peak tourism times, traffic onto and off the island can be very congested, and it can be much faster to ride the trolley as once it reaches the bridge at the north end of Estero Island, it has a dedicated trolley lane.
Parking on the beach can also be expensive and very limited, so riding the trolley has another advantage in not having to deal with parking. There are a number of parking opportunities along San Carlos Blvd, including a park-and-ride lot just before the bridge onto Estero Island.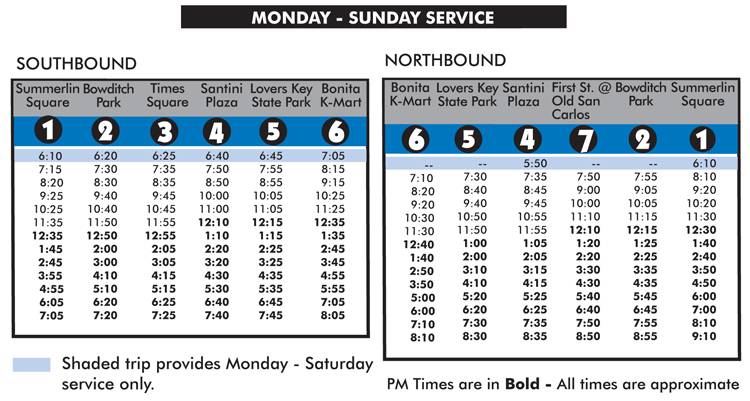 The route map and the schedule are both provided by Lee County's LeeTran transit system and are current at this time. A full brochure is available for download here. However, they may change as Lee County sees fit, so I do recommend that you verify them from their website.